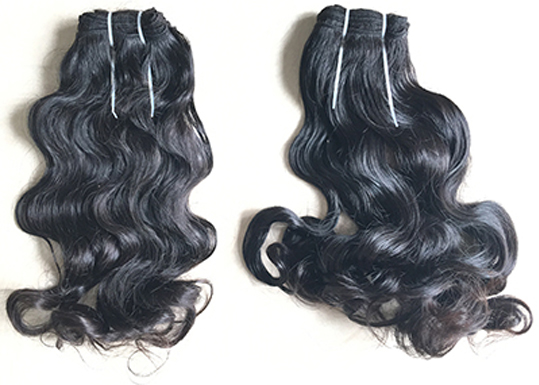 16 Jun

Hair Extensions of New Variety from India

From wigs and hairpieces to interwoven hair and extensions, the human hair market is huge.

But few know where these brilliant strands come from or imagine the journey they travel before reaching the heads of those who need them either for health reasons, religious reasons or, simply, for vanity.

Today, we present the newest in extensions: a totally natural hair that comes from India. Hindu women, from birth until they are married, cannot cut their hair and when they get married, cutting their long hair is a ritual. This hair is very healthy because it has not undergone any type of permanent type treatments, dyes, discolorations.

The hair is carefully prepared and weaved in curtains or packaged in strands to be shipped to Europe or America where they are in high demand. The Indian Hair Extensions are woven of the REMY form, that is to say, the whole hair is sewn in the same direction, from the root to the tip, in order to conserve its natural position and avoid entanglements.

There are different ways to place Indian Hair Extensions: with staples, knot, keratin, stickers, clips etc.

The staples are made of a moldable material, which serves to join the tufts of the hair itself with that of the extensions. To do this, we use a pair of tweezers that allows closing the staple and that both locks are attached, the staples are going down with the hair growth and after two months or three you have to open them and raise them again.
Extensions
The keratin is a synthetic component, similar to the protein with the same name we have in the hair and serves to attach the hair strands itself with extensions by heating and welding keratin itself. Of course, after a few months and due to hair growth, they have to be raised again.
The extensions with clips are curtains of hair in different widths that are placed in different layers and are fixed by small clips or combs that are hidden and are not seen. This type of Indian Hair Extensions are imposing itself on the others since it has multiple advantages, like for example, the easy placement and the little maintenance.
Extensions with clips you can put them and remove yourself in a few minutes without having to go to a professional, that also allows them to take care of them and wash them apart, all this also contributes to its length is much longer.
Adhesive extensions
New placement system- The top of the adhesive extensions has an innocuous adhesive and you only have to remove your protective tape to place the curtain on your hair. Two strips of extensions should be attached by attaching the sides of the adhesive so that a part of your own hair is left in the middle. Optionally, it can be heated for a few seconds with the iron for more fixing.